Durante l'esecuzione del comando "gulp package-solution" per la creazione del pacchetto di distribuzione (o test) di una nostra Client Side Web Part, potete incappare in questo errore:
"No manifests were found in 'dist/*.json'. Ensure a build has completed successfully and that paths.manifestsMatch is correct"
Ecco uno screenshot dell'errore.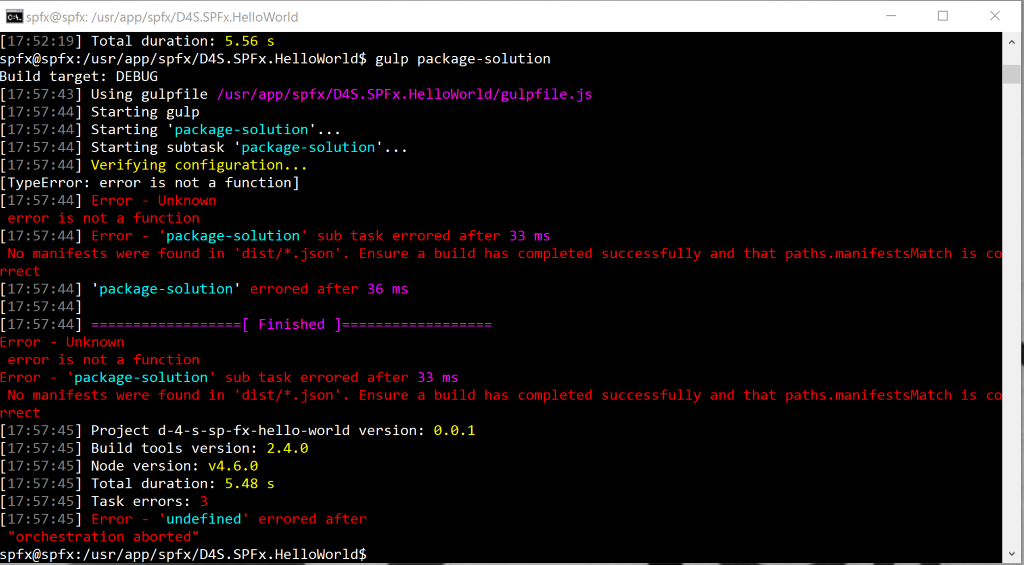 L'operazione è andata in errore perchè prima di fare una build, è necessario lanciare l'operazione di bundling dei file Javascript. Come dicevamo in uno dei precedenti post, le operazioni da fare per creare una build delle nostre Client Side Web Part sono le seguenti.
Build di test
gulp bundle
gulp package-solution
Build di produzione
gulp bundle --ship
gulp package-solution --ship
Per la produzione, prima di eseguire il comando package-solution è necessario inserire l'indirizzo in cui avete deciso di hostare i file genreati dall'operazione di bundling all'interno del file write-manifests.json presente all'interno della vostra soluzione.